Honda BEAT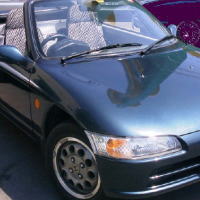 PP1 Honda Beat 1991.5 ~ 1996.1
The main features of Honda Beat are :
Honda Beat is a small midship engine layout 2-seats convertible car. Honda Beat might be not a serious performance car, but it have a high responsive modified E07A engine. The small 660cc SOHC 12-valve MTREC (Multi Throttle Responsive Engine Control system) engine makes 64 horsepower at 8100 rpm.
And the manual transmission shifts smoothly and can be fun to operate. Also handling and ride comfort are surprisingly good. The Honda Beat is equipped with MacPherson strut front and rear suspension , and all-wheel disc brakes.

Various limited edition versions of Honda Beat are introduced.
1992.02 : Honda Beat Version F features Aztec Green Pearl color and alloy wheels.
1992.05 : Honda Beat Version C features Captiva Blue Pearl color and alloy wheels.
1993.05 : Honda Beat Version Z features Blade Silver Metallic color or Evergrade Green Metallic color, three black gauges, mud guards, a rear spoiler, exhaust pipe finisher, and alloy wheels.

Main Equipment : Air conditioning, Power window, 3-point seat belt, Sun visor, Front stabilizer, Front laminated glass, Side toughened glass, Halogen head lamps, Soft top, Steel wheels.
---
Specification






SPECIFICATIONS
Model
BEAT
Vehicles Form
E-PP1
Length/Width/Height (mm)
3295/1395/1175
Indoorsize
Length/Width/Height (mm)
915/1215/1015
Wheel Base (mm)
2280
Track (FR/RR)
1210/1210
Minimum Ground Clearance(mm)
135
Weight (kg)
760
Engine Form
E07A
Engine Type
L-3 SOHC
MTREC
Displacement (cc)
656
Horsepower (ps/rpm)
64/8100
Torque (kgm/rpm)
6.1/7000
Fuel capacity (liter)
24
Transmission
5MT
Brakes (Fr / Rr)
Discs/Discs
Tyres (Fr / Rr)
155/65R13
165/60R14
Suspension (Fe/Rr)
Strut
---