Import/Export JDM Cars
「Looking for a JDM car」
We can arrange all types of Japanese cars and JDM car parts. We also have a partnership with a company called 'Web Gauc' who is an automotive supplier here in Japan. 'Web Gauc' stocks used cars directly from vehicle owners. We have the ability to 'hold' their cars for a week before they auctioned off here in Japan. Also, we can arrange Japanese cars from Japan car auctions. If you are in the market for a Japanese specialty import at the lowest of prices possible, let J's Garage Export offer our experience and expertise to you. We are here to help you.
---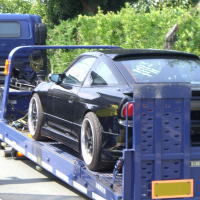 「Exporting a JDM car」
Exporting Japanese cars from Japan has recently become easier thanks to revised export laws. As a result, it is now more convenient for our customers to drive a high tech sport car. It is even possible to export a Japanese car for your own personal use. You may be apprehensive due to the language barrier when exporting a car. There is no need to worry. J's Garage Export Co., Ltd.is experienced in exporting Japanese cars to countries all over the world such as ; The United Kingdom, The United States*, Canada, Sweden, Ireland, Australia, New Zealand, the West Indies, Cyprus, Russia and many other countries. Before purchasing any car, you should investigate the requirements of importing a car to your country. Usually, the customs clearance, laws, regulations, and modifications are areas related to import cars from Japan. You may also appoint an import registration agent or professionals who will make all the necessary car conversions. It is recommended that you contact the appropriate agencies in your country. Prior arrangements are very important for personal import. Let J's Garage Export Co., Ltd. help you.
---
「Importing a JDM car」
Importing a Japanese car directly from Japan has many benefits. J's Garage Export will sell your dream car at the same price as in Japan. This benefits the buyer in many ways. First, non-standard options for other countries such as A/C, power steering, power windows, alloy wheels, etc. are standard on Japanese cars here. Second, the price of Japanese used cars here in Japan is less expensive because of market factors such as having to register new cars for 3 years and used cars every 2 years. These legislations artificially deflate the price of the used car market. Thirdly, the Japanese highways and transportation laws prevent cars from receiving the same type of abuse as in other countries. For example, the maximum speed limit in Japan is 80 km/h where other countries have maximum speed limits of 125 km/h. You therefore, get a well- maintained vehicle in great conditions with full options all at a less expensive price. Due to J's Garage's Export great location in Shizuoka located at center of Japan, we can look for the best car for you.

* Note : As for importing to USA, you could import 25years or older cars.

---